October 30, 2021
0 Comments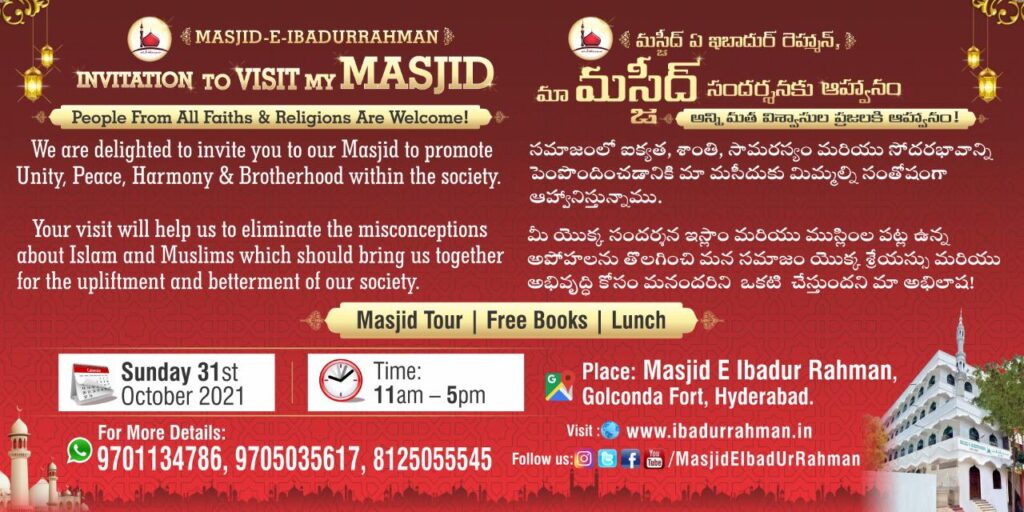 👉🏻📜My Dear Non Muslim Brothers and Sisters, with Immense Pleasure and Happiness, I Would Like to Invite You, Your Family and Friends to Our Visit My 🕌Masjid (Mosque) Program.
👉🏻This Initiative is to Bring Different Cultures Together and to Promote Peace, Unity, Harmony and Brotherhood within Our Society.
🗓️On Sunday 31st October 2021
👉🏻⏰Visit us at any time between- 11:00 AM till 05:00 PM
📌Venue: 🕌Masjid IbadUrRahman,
9-8-110/C/41, Fateh Darwaza – Dhankhota, Golconda Fort, Hyderabad – 500008, T.S, India
🍱Lunch & Snacks (🥗Veg or 🥘Non Veg) will be served.
📲Contact: +91-9701134786, 9705035617
📲Chat with us: https://wa.me/919701134786
🗺️Map Location: https://maps.app.goo.gl/EDb83vPZkkfVNQcN7
🌐Website: https://ibadurrahman.in